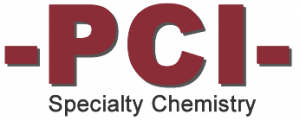 Competitively priced products with consistent quality and on time deliveries backed by 24/7 customer support…
We supply products in Bulk, 330/gallon totes, 55 gallon drums, 5 gallon pail packaging.
Dry Film Strippers
Tin & Tin Lead Strippers
Defoamers
Screen Cleaners
Solder Mask Strippers
Hot Air Leveling Flux's
Hot Oil Reflow
Microetchants
Developer Concentrates
Equipment Cleaners
Solder Conditioners
PCI manufactures high performance, highly concentrated resist strippers. Typically used at 4 – 5% by volume make up. Formulations designed to break dry film down to small particles for skin removal filtration and extended life. We offer semi-aqueous or fully aqueous amine based formulations. Formulations for specific dry film or photoresist products.

A one-step sprayable nitric type for high-volume conveyerized processing. Steady state controlled by specific gravity. Two-part emersion type with no copper attack and anti-tarnish finish.
Silicon free, compatible for developing and stripping applications.
Designed for removing legend inks, LPI soldermasks, touch up inks. Non-Flamable, Non Hazardous Formulations. Water soluble .

Designed to remove fully cured or tack dried LPI solder masks.


Vertical, Horizontal flux formulations in multiple range of viscosity's. For fine pitch surface mount applications, lead and no lead alloy flux's. Fluxes for flex, ridged/flex with exposed acrylic adhesives applications. Horizontal flux formulations with solder assist blanket oils, water soluble .
Non Flammable flux, water soluble flux and hot oil reflow fluids. Hot air leveling squelch oils.
Liquid Concentrates used 30 – 50% by volume. Potassium Mono Persulate type, Sodium persulfate/sulfuric acid type. Powder versions. Chromate removal.

Non etching chromate removal types. Tri-acid non etching sprayable types .
High Purity Potassium carbonate concentrates 40% – 47% by wt. Replenisher with free KOH versions for higher resist loading.
Developer, Resist Stripper Equipment cleaner concentrates for horizontal spray equipment. Remove developer residue hard water build up conditions.
Post alkaline etch solder conditioners prior to solder reflow process.
PCI also offers custom formulations depending on your specific needs and interest's.
We provide:
Toll blending
Private labeling